High-fashion brand, Balmain recently launched a new digital campaign using CGI models instead of humans. The move has divided the industry with some welcoming the money-saving innovation and others recoiling at the idea of a model-less future. Either way, it has served to highlight that the fashion marketing world is moving at an unprecedented pace.
Whether you are a start-up or a global giant, constant flux is required to keep up with the multi-faceted challenges of fashion marketing in the digital age. With the help of industry experts Matt Booker, Rhodri Williams and Ashleigh Davies, let's take a look at some of the most pressing challenges, and how to overcome them.
Challenge #1 – Communication Overload
From the push notifications of social media to work and personal email accounts, we are being bombarded with information day in, day out. Cutting through the noise and making a lasting impression on the consumer is a tricky business and is one of the challenges of fashion marketing.
Many brands turn to discount as a quick-win, but Print Production Expert, Matt Booker, believes this can lead to a false sense of security. "Many our clients may get themselves into a place where they think they are growing fast, but they are just buying customers through a discount scheme."
I discussed the perils of the discount trap at length in a recent blog on the subject. In a nutshell, too many price markdowns can cheapen a brand, and once the consumer has got used to this, they will rely on a deal, and you will struggle to convert them to buy anything at full price. Big brands are not immune to this. John Lewis reported 99% profit losses in the first half of the year alone, in large part due to it's 'never knowingly undersold' price-match promise.
Solution #1 – Identity
"Many brands struggle with an 'identity crisis' and send out mailshots asking "how can we change to suit you?" Consumers are more intelligent than ever and are spoilt for choice. You have to hold onto your integrity and know who you are as a brand", says Digital Marketing Expert, Rhodri Williams. I discussed in another blog about why communicating who you are,  is so important.
Nobody does this better than Gucci, who reported a 48.7% increase in sales in the first quarter of 2018 alone compared with 2017. Not ones to rest on their laurels, the luxury brand has been quick to move with the times and corner the millennial and Gen-Z crowd who account for almost 50% of Gucci's total sales. Gucci recently paired up with hip-hop design legend, Dapper Dan and launched a 300-piece 80s-themed collaboration which was well-received. Kanye West, Pusha T and Migos are just a small selection of celebrity influencers who have name-dropped the brand in their song lyrics, reinforcing Gucci's illustrious appeal amongst millennials and Gen-Z consumers.
In addition to tapping into new demographics and enlisting the help of influencers, Gucci has also recognised the desire for individualism that drives today's consumers. Gucci and Dan paired up to re-open his iconic Harlem workshop on Lenox Avenue, New York by appointment only. This enabled customers to purchase one-off, bespoke garments designed by Dan. The exclusivity has caused a real buzz for the brand, and the sales speak for themselves.

Challenge #2 – Multi-Channel or Multi-Flop?
Just because we have access to multiple marketing channels doesn't mean we should try to be all things to all men. This is a common mistake that brands make and can dilute the brand. Rhodri says, "Jumping on Facebook because the competitors are there or jumping on Instagram because it's the latest thing is a scattered approach. You wouldn't jump in a car and drive without a destination. If you don't have a strategy, then how do you know where you want to go."
On the other hand, Direct Mail Consultant, Ashleigh believes that the right multi-channel approach can elevate brands and create a 'halo effect.'
"As a brand, you need to be considered important within a saturated market where there are so many competitors. If you flick through a catalogue and then see the same brand in an advert online, the halo effect pushes the brand to the top of your mind, and it's positive reinforcement."

Solution #2 – Consistency as a strategy
"It's about the message, regardless of the medium. As a brand you need to figure your demographic out" says Rhodri.
Where does your target audience like to hang out? Where do they sit on the buying journey? Once you figure the answers to these questions out, adopt a consistent strategy across all channels so that whether the consumer is reading your email, seeing your ad on the tube or scrolling past your sponsored post, it's unmistakably you. We work very closely with brands to develop and clarify their unique brand DNA. Getting this right can transform their business and help them survive the challenges of fashion marketing. Read here what makes a brand stand out.
Take time to consider your target audience, and the problem your brand can solve better than anybody else. If there are 50 other denim brands making jeans, what makes yours different? Perhaps you use sustainable methods or have a genius fit.
With client ME+EM we created a unique problem-solving business. We brainstormed and discussed how to solve something in the targeted customer's wardrobe. Not only that, but with my luxury business background, Founder Clare Hornby was able to deliver the designer fit and luxury fabrics at an accessible price point with a direct to consumer model. You can read more here about how consistency impacts on retaining customers.
Once you know what makes you distinct, make sure this message is sewn into the tapestry of your brand in the product in the photography and copy. Shout about it and make it known on the platforms most relevant to your brand.
In PART 2 of the blog about the challenges of fashion marketing and its opportunities coming soon, we'll look at personalisation, the power of simplicity and the revival of print.
Are you a retailer or brand looking for help to move your business online? We can help you with your digital strategy, help you navigate the chaos and get you credible and visible and grow online.  Contact us today.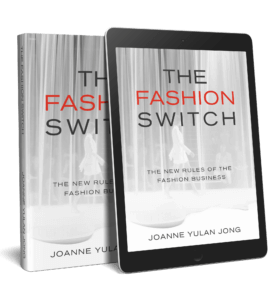 Joanne Yulan Jong a Creative Director, Fashion Writer, and Author of the bestselling book THE FASHION SWITCH 'The new rules if the fashion business'. She has been invited to be a regular columnist for WWD magazine.