Startups have their elevator pitch. Charities have their key messages. Universities have mottos. New designers should be able to distil their message in order to translate their work into sales.
Pop quiz. Identify these brands from these three words. Answers at the end (no peeking)
• Luxury space-dyed knitwear
• Chubby striped fur
• Tailored men's swim-shorts
Net a Porter stocks 300 brands and Matches has upwards of 400. That's a lot of images, products, words and 'brand visions' for any customer to absorb. Imagine the buyers who have to assess these brands each season. Couple that noise with an increasingly impatient and less indulgent audience and it's not difficult to see how a collection can get lost.
A brand with a single, clear message can slice through the noise of competition. Can you build a brand that can be understood in three words or fewer?
I launched my women's collection, YULAN as an ambitious, full ready-to-wear collection complete with jersey and knitwear. While it was received very well, subsequent seasons proved trickier for audiences to connect with. On reflection, although it was a complete collection at launch, it had one very simple message -the colour RED.
Every item that season was the same specific shade of the colour ( a huge technical achievement as insiders will understand) It was a concept that was easily understood and this simplicity gave buyers a way into the collection.
If your message is too complex to describe quickly, then others will struggle too. Unfortunately, if they struggle, they'll probably just move on hoping to find something that connects more easily.
To communicate clearly, it's most effective to distil the message to its essence. Strip away complexity, detail and garnish until you have an unambiguous, upfront, crystal-clear idea that is easy to convey and difficult to misunderstand.
Take for example Missoni (who were a client of mine) they have not wavered all these years from their core message ( did you get that answer right?) Luxury space-dyed knitwear. The amazing expertise of creating the unique space-dyed yarns, developing new stitches with the knit technicians every season, and yet creating a fashion collection that's current, has taken generations to perfect and you can see it.
It was a wonderful colourful world to experience and a pleasure to work with a brand where every detail counts and the message is so clear. There's a certain comfort also with specialisation, that you are buying into a brand that has taken time to create and that's authentic.
But is this kind of distillation even possible for the designer starting out? Isn't there an expectation for a credible brand to arrive complete with the full statement, the complete collection and the catwalk show? Lou Stoppard's piece on the success of 'monobrands' profiles several brands that demonstrate that a simple message can succeed where complexity gets lost amid the relentless noise generated by competing images and messages.
There are two challenges that a new designer must address to reduce the risk of being lost in the noise. The first is to properly understand what buyers expect to see. Once you have their attention, your second challenge is then to make sure they understand.
As a new designer, are you being told that your launch collection should be a certain size in order to look credible? A wholesale showroom would expect to see around 120 items or three rails of styles in order to understand your message.
Producing a cohesive collection is costly (design, patterns, grading, fittings costings), fiddly (fabrics, trims and minimum production runs) and harder to explain to the buyers (look books, line plans and different price structures). With so much competition, opening a show is an even morecostly exercise that rarely relates to sales.
However, you can reduce cost, risk and dilution of message if you focus on your core concept. A more streamlined, targeted collection helps your buyers understand this message more quickly. Buyers are more forgiving if the collection is compact and you leave them space to dialogue with you and help you with valuable customer insights.
The same advice holds for established designers. Your pedigree may give you some additional sway with buyers, but your work still competes to be seen above the noise.
If sales are stagnant or dipping, look at your collection soberly. Do the three key words that may have once seemed succinct still sound convincing? It may be time to revisit and understand what initially made the act of creating a passion for you and your customers and nurture again the core of the brand.
Perhaps you have opened the collection up too quickly. The message may have become too watered down. As Stoppard says and I agree "A product offering that's too wide can dilute what made them interesting in the first place"
Three words. Keep it simple.
Pop Quiz Answers
Luxury space-dyed knitwear – Missoni
Chubby striped fur – Shrimps
Tailored men's swim-shorts – Orlebar Brown
Are you a retailer or brand looking for help to move your business online? We can help you with your digital strategy, help you navigate the chaos and get you credible and visible and grow online.  Contact us today.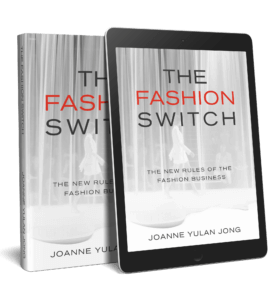 Joanne Yulan Jong a Creative Director, Fashion Writer, and Author of the bestselling book THE FASHION SWITCH 'The new rules if the fashion business'. She has been invited to be a regular columnist for WWD magazine.