You're a driven fashion entrepreneur and you're itching to get your ideas to market. Before you make plans to retire on your inevitable profits, writes Joanne Yulan Jong, check these 14 mistaken notions. Forewarned is forearmed…
1. Having a good eye and sense of fashion style means you can be a great fashion designer
Great taste and a sense of style are just not enough…There is a real talent for being able to understand how garments work on the body. Fashion is not about just silhouette that you throw together from other people's work. Being a fashion designer involves technical ability and a real understanding of pattern cutting and fit. You need technical smarts to make three-dimensional garments which not only look brilliant but fit an actual human being. A great fashion designer also understands how trends and colours work. That understanding involves research and work. It takes time and research to develop expertise about the hundreds of elements that go into a presenting a professional fashion brand that might hang comfortably in Selfridges or in Matches for example.
2. That being a talented designer means you can create and run a successful fashion brand
Your talent as a fashion designer does not automatically mean you can run a successful fashion brand. Running a fashion business requires you to be many things: naturally, you are primarily the creative powerhouse but you also need to be the manager, the numbers person, the marketer, the professional… Many designers and fashion entrepreneurs prefer to avoid business-related issues and focus themselves on the creative. Not everyone is cut out to run a business. However, someone has to do this dirty work. Upskill and learn to do it, or acknowledge that you need help.
3. That there are so many new brands starting up that it must be easy
Digital imagery of fashion seems ubiquitous. Coverage of NYFW fall 2016 generated 13 million total interactions (97% on Instagram, 2% percent on Facebook and 1% on Twitter). One might think that with this sort of huge appetite, starting a fashion brand must be easy.
One would be quite mistaken…
'Fashion' means creating items that must be worn by a moving person: items that make the wearer feel transformed and happy, deliver something practical and make a statement. Each image that flashes up on Instagram takes many, many hours of hard work to conceptualize, design, sample, style and photograph. It takes a lot of work to make these items look effortless, beautiful and desirable. In fact, it takes a well-trained team and many hundreds of little components all miraculously coming together to get a single garment to be produced perfectly. Easy, it ain't.
4. That you can run a fashion business without understanding finance
Most creatives can't bear looking at spreadsheets. Unusually, I love spreadsheets but when I had my collection, I refused to acknowledge the difficult truth they revealed. Many fashion startups believe they can run a fashion business without really understanding the finance. They believe that they will launch a wonderful product to a delighted, generous audience and kick back and worry about the numbers later. This is what I did and I encourage others to learn from my mistake. While most fashion entrepreneurs have some sort of business plan, they can be unsure about financial projections. Financial projections can be scary things – you may be faced with a difficult truth that your business just can't work. While this is tough to learn, it's best to find out now while you have a chance to change rather than postpone the heartbreak.
5. That you can create a beautiful product without expertise
On the other hand, you have fashion entrepreneurs who do understand business but not the mechanics of creating a great product. These individuals have a vision and are raring to get their product into the world – quickly. Creating a great, beautiful product is more difficult and complex than the enthusiastic creative might acknowledge. Many find themselves urgently looking for help once they have begun the mechanical process of creating samples. You can do it, but you need trained expertise, a personal understanding of the process and a razor-sharp attention to detail. You need to understand the process in detail so that you can bring your ideas to life knowing the possibilities and limitations from design to sampling (and knowing when others try to justify shortcuts that benefit them but not necessarily work for you).
6. That great press equals great sales
Look at the column inches given over to designers and brands; the likes and shares on social media; the glossy images in the weekend supplements. It's tempting to believe that this sort of coverage correlates with sales so it must be a good idea to spend on getting press. Not necessarily. While getting good press won't do your brand any harm, it doesn't necessarily translate into real sales either.
Magazines, papers, blogs and trade publications are all starving for content – they lap up the latest from new brands but they don't tend to be as interested in supporting brands on a longer-term basis. For new brands, a flattering piece in a high profile publication is seductive. But it does not mean that your brand has arrived. And it certainly doesn't mean that sales are guaranteed. Keep your spreadsheet open and don't let your head be turned by a flurry of great press.
7. The myth that the " Four S equation" ( as I call it) still works?
Sample + Show = Sales + Success
Unfortunately, there is little evidence this formula works anymore. Despite the disruption that has happened in the business of fashion in recent years, many young independent designers still believe that the more traditional fashion show' model is still valid. The notion of creating your samples and displaying them on the catwalk leading to sales and success is impractical and unhelpful for most startups. The hard truth is that catwalk shows are unjustifiably expensive for young fashion entrepreneurs. The outlay could be channelled in far more effective ways.
Now that catwalk schedules are very much up in the air, new brands might look to spend time and money understanding their market better and working out what will delight their end customer. Smaller exclusive events and presentations targeted very much at the market sector they aim to conquer might be a better investment. Investing more in distinctive branding or higher quality digital assets may also prove more effective.
8. That starting a fashion brand will provide you with a creative 'job' for life
A lot of designers and entrepreneurs believe that starting a fashion brand will provide them with a creative 'vehicle' and job for life. But without money coming into the business, their career will be a short one. It's an enjoyable fantasy to imagine spending your time being creative and waiting for the world to start beating a path to your door to get your garments. The cold hard reality is that creativity is just one small part of a what makes a successful fashion business. It may even be as little as 5% of the work that must be carried out. Fashion can be a job for life, but without understanding the mechanics of business, it may not be a job that gives you a salary.
9. That structure and organisation is just plain boring
Some creatives and fashion entrepreneurs detest structure and being made to be organised. There is a romantic notion of the wild and unfettered creative who doesn't let tedious bureaucracy get in the way of his/her genius. This is again an enjoyable fantasy, but being organised means less duplication of work, less fire-fighting, far less stress and more time and headspace to be creative. When everyone is focused and clear as to what's happening and when running a business is easier. Everyone knows the objectives, the process, who is doing what and what can be expected.
Many companies operate chaotically with no or weak systems in place – files are messy, no shared servers, no system. This creates chaos, duplication and inefficiency in the business which is easily avoided. Smoothing out production is one of the key indicators whether a business will succeed or fail. Having efficient systems means that outside suppliers will find it easy to work with you, and easy to work with generates a lot of goodwill in a sector with a lot of chaos. Suppliers, journalists, investors – these are all more likely to treat you favourably if you act professionally.
11. That I'm the best person to make all the decisions- I don't need advice.
Many fashion designers and entrepreneurs feel that they are able to make their own decisions and can pretty much resolve everything themselves without seeking advice externally. While self-belief is to be encouraged, self-delusion is costly. A canny entrepreneur doesn't waste time and money trying to be an expert in everything. She turns to the experts instead. One business I worked with were advised by an expert to invest in a clearer coding system so they could communicate better with suppliers during the sample development phase. This initial outlay saved them up to six months worth of production problems.
12. Thinking your brand is unique but not knowing it really is…
Many fashion entrepreneurs (mainly designers) think "my aesthetic point of view is enough; I am already unique. My story and my clothing will make the business a success!" Again, while self-belief is essential, it must be well-informed self-belief. Take a store like Selfridges. In order to stock your unique brand this season, they need to drop or reduce stock from another brand. They have a buying budget and this budget is constantly being monitored to ensure that it is effectively generating the highest sales space allowed. This means that you don't sell your unique product just once to Selfridges; you have to sell constantly to Selfridges. You have to keep justifying the space they give you just as they have to keep justifying their spend on you. If you don't sell and sell constantly then the business can't survive. It's not enough to make lovely clothes without considering really hard what makes you different. And if you know what makes you unique, it's so much easier to show Selfridges what makes you unique.
13. That the costs are the costs
So, things are going well and your company is still in business after eighteen months. It's tempting to believe that you can slowly edge away from the spreadsheets. After all, the costs are the costs, right? If you are lucky enough to survive this far, you cannot miss an opportunity to re-examine your overheads, processes and systems. If you get larger orders, maybe you can negotiate on price or resource better fabrics. Perhaps re-look at payment terms and push suppliers that you work well with to provide better service. When things are working, examine your current costs and see if they can be improved.
14. That it's easy to find/move production
There is a finite number of suppliers who can work with you on your exciting brand. And there's a very small number of those who will work with you if you mess them around with changing deadlines and quantities. While a lot of suppliers themselves don't deliver on promises, that cannot be an excuse for you to be flaky. It's difficult and time-consuming to find reliable and trustworthy suppliers and especially ones who are happy to produce smaller orders. If the relation breaks down for any reason, remember those good suppliers have queues of designers willing to give them their business. Changing suppliers is not easy. Questions arise over the ownership of materials and patterns. You don't want to start from scratch re-cutting patterns all over again. Who owns what and all the IP of the patterns etc need to be discussed and understood early in the relationship. Think carefully about who you choose to get into bed with at the outset. You don't want to bed-hop too much once your business is up and running.
Are you a retailer or brand looking for help to move your business online? We can help you with your digital strategy, help you navigate the chaos and get you credible and visible and grow online.  Contact us today.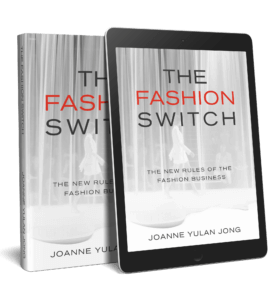 Joanne Yulan Jong a Creative Director, Fashion Writer, and Author of the bestselling book THE FASHION SWITCH 'The new rules if the fashion business'. She has been invited to be a regular columnist for WWD magazine.