Joanne Yulan Jong discusses working with international fashion entrepreneurs and the fashion industry in Dubai with luxury sector fashion journalist Lucie Muir. Can Dubai become a Fashion Capital?
LM: When did you set up your global fashion entrepreneurship business and what led you to do so?
JJ: I find it so frustrating to watch people struggle to launch a fashion brand — I've been there and know what it's like! With insider knowledge, these entrepreneurs can fast-track their development and have a better chance of success.
I've been working with entrepreneurs over the last 3 years delivering bespoke 1–2–1 participation workshops to those looking to break into the fashion business. I look at their plan and help them clarify their next steps.
This service has answers for people in the early stages of a business idea to those already trading looking for expert advice. These group sessions will be very active and participatory rather than lecture style. I know people learn far more this way. Helping my clients to be more informed to think outside the box and be more creative in their preparation before they start is what I aim to teach.
LM: What kind of people approach you for your mentoring skills — have they already set up their labels or are they complete novices from all walks of life?
JJ: Just recently I was recently contacted by a lawyer with a really successful law firm who wanted to start a luxury menswear brand. My clients come from completely diverse backgrounds- lawyers, financiers, marketing executives! They all share a passion to create fashion. They bring great skills in their area of expertise but lack understanding of the fashion business.
LM: What sort of help do most clients require? Are they lacking in one area but strong on another area for instance and where do you come in? What are your strengths and how do you teach them?
JJ: Mainly they have ideas but don't understand the process of how to turn these into reality. They tend to have gathered bits of information here at there but the picture is incomplete.
Most often they are keen to understand sourcing and production.
I've worked and designed for more than 20 years in a range of environments: huge international designer businesses turning over billions, to UK retail, e-commerce, SME's and even my own collection. My range of experience lets me connect with clients whether they are small niche brands or bigger players. I help clients see their creative strategy in the context of a solid business plan.
Each client comes with a different 'toolkit' and my work with them is really to discover what skills they have and give them a "tough love" overview of the complex nature of the fashion business and what it means to run a successful brand.
Up till now, I have been doing bespoke 1–2–1 workshops really aimed at these types of professionals. The sessions are quite intimate and intense so I keep it all quite interactive. I use the time to understand where they want to be and clarify the steps to get there.
Some participants find the session a real eye-opener in terms of understanding what running a fashion company truly involves. But we keep it constructive and positive.
LM: How would Dubai's fashion/creative hub compare to other emerging fashion markets such as Nigeria. Are there any similarities between the two?
JJ: In Dubai as in Nigeria, generations of women have been making their own fashion statements buying cloth and taking these lengths of fabrics to tailors and seamstresses. They can make clothes that they want and they control that process which they enjoy- creating clothes comes naturally to them. Wealthy Nigerians and Emirati love to travel and to shop fashion — as a result, many are now thinking to start up their own labels and fashion houses in Dubai.
Dubai has the drive and finance to make things happen — and things will happen fast.
Unfortunately, with Nigeria, the recent change in government and general instability around natural resources such as oil and gas have made it difficult for business. It will get better, but the funding and infrastructure are not there right now to get things going.
LM: So, you are planning on going to Dubai next? Can you let me know what attracts you to the UAE and how big is demand for your expertise there?
JJ: Yes, indeed, it's a really interesting market and attractive because even though there has a been a slowdown, its still in growth. Everyone I have met with so far has been really enthusiastic about what I can bring to the sector as a fashion consultant in Dubai and we are in talks with potential partners there.
LM: How would you help a fashion designer hoping to set up their label in Dubai right now?
JJ: They need information and practical knowledge but also a way of connecting with the expertise they lack. This is what I bring them – everything from advice to practical planning and introduction to the right resources to get things done, correctly and quickly. Otherwise, it can be a long and difficult process, very much trial and error.
LM: What sort of challenges does the Dubai/Middle East market throw up -surely, it's a volatile place to become a successful fashion designer right now?
JJ: The oil prices fluctuation will affect tourism and therefore retail generally will be affected- especially for the big brands. However, for the smaller more focused designers I see this as being a great moment for them.
LM: Does Dubai have a good fashion infrastructure for production or does it still have a long way to go before that is properly in place? (textile industry, factories, etc.)
JJ: Both Nigeria and Dubai face a similar problem in that they have very limited access to high-level fabrics, skilled pattern makers and sampling facilities and production.
There are many tailors and pattern makers who work on made to measure but little else. There is a long way to go before there is a mature infrastructure in place.
LM: How much fashion business is actually done in Dubai and do you think it can become an influential fashion hotspot?
JJ: Dubai has a huge shopping culture in general. There is a huge appetite for fashion especially in the designer and luxury markets. Interestingly, most of the biggest spenders do their shopping behind closed doors at private shopping events.
I'm fascinated by it as a place where raw talent will emerge given the right conditions. Young designers, there certainly bring a fresh voice and perspective, which also fits the relaunch of Fashion Week Dubai 2016.
LM: How would you describe the new, Middle Eastern fashion design aesthetic and what makes it so unique? Which stores are buying into it?
JJ: There is a rising number of local designers who are recreating the abaya, a traditional cloak-like robe. These designers are being very inventive as, on the face of it, it's quite a restrictive brief — long sleeves and long 'everything' is required.
Modern, modest Emirati wear new versions of the abaya teamed with towering heels, designer bags and covered hair.
Mainstream stores don't generally stock these designs and independent boutiques are few and far between so their route to market is limited. Inventive young designers meanwhile search for their own route to market and direct sales are booming on Instagram, for example. Private sales events and pop up events are taking off.
LM: Finally, looking ahead, how important do you see the role of the fashion entrepreneur becoming in Dubai and in other parts of the world? Should design schools be worried!
JJ: Glamorous, appealing digital imagery is pretty much everywhere now so I see no let up in the appetite for fashion from almost all sectors of society.
When the market is so extremely competitive, savvy fashion entrepreneurs rather than designers are succeeding in business. I feel is a great shame that these creatives who have spent time really studying fashion are losing out.
If design graduates are clever they will team up with the entrepreneurs who lack the design smarts. And vice versa of course. Fashion is such an amazing business to work in but that's really what it is — a business.
Are you a retailer or brand looking for help to move your business online? We can help you with your digital strategy, help you navigate the chaos and get you credible and visible and grow online.  Contact us today.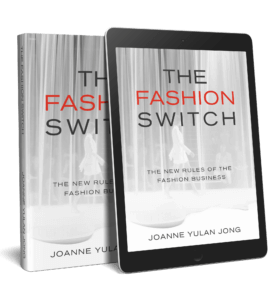 Joanne Yulan Jong a Creative Director, Fashion Writer, and Author of the bestselling book THE FASHION SWITCH 'The new rules if the fashion business'. She has been invited to be a regular columnist for WWD magazine.