The shift in the way we shop has impacted fashion retail so deeply a new phrase has been coined. "The Retail Apocalypse" It's a brave new world for retail and it's time to sink or swim.
Just over a month ago I found myself barricaded in the basement of a pizza restaurant amid rumours that there was a gunman on the loose in Selfridges. It was mid-evening in Oxford Street, and I had been making my way home from work.
The lockdown was over within an hour. All shops were shut and the public was told to leave the area. I found myself thinking that staying home and ordering online might have been the easier option. Aside from the fuss, I had never seen Oxford Street so busy before. As London's population swells, the appeal of shopping in a crowded area versus ordering from the comfort of the sofa is a no-brainer.
Unsurprisingly, I'm not alone. High-street footfall dropped 3.5% in December as many opted for online shopping or peaked early with the Black Friday sale. House of Fraser is one of the many department stores feeling the January pinch, with reports of lacklustre Christmas sales both in-store and online.
Retail parks fared slightly better than high-street over the festive period – most likely due to their manageable size, free parking, and leisure facilities, although, it's worth noting that many shoppers were simply taking advantage of convenient click-and-collect services, rather than planning a big splurge.
Embracing the new and now
As a society, consumers are spending more on food and meaningful experiences in the pursuit of the feel-good factor and tightening their belts on fashion expenditure. The old rules of retail are gone, and consuming for the sake of it, is no longer desirable. Retailers will really have to fight against the tide this year – there will be many casualties as businesses adjust to this new and challenging era of retail.
However, all is not lost. There is still time to turn the beat around. Businesses that take time to understand what their customers actually want are likely to do well.
I have identified three fashion retail predictions for 2018 and distilled them below.
Zero-Boundary Shopping
Luxury fashion writer, Lucie Muir says, "Today's shoppers want memorable experiences, they are seeking the new, the extraordinary, and this is where savvy luxury brands can really excel."
As we transfer much of our existence online and the content we see becomes more curated by our individual tastes, it's no surprise that the big department stores are feeling the strain.
Luxury shopping needs to emulate that personal, curated experience. Fragrance connoisseurs should be able to learn about top notes from a leading perfumer or take a lesson in shoe care at one of Mayfair's finest emporiums.
Personal, frictionless encounters give bricks and mortar stores renewed purpose and promote the aspirational aspect of luxury.
Artificial Intelligence Engagement
Artificial intelligence in fashion offers exciting potential and is an opportunity that retailers can't afford to ignore. Shop Direct CEO, Alex Baldock, has said that AI will, "transform every retail business in the UK over the coming months, whether retailers are ready or not."
One such transformative feature is in-store gesture recognition technology which allows shoppers to quickly identify what they are looking for by size, colour, and garment. Once shoppers have navigated this digital catalogue, they are notified where exactly to find said-garment in-store, and they are also given lookbook ideas. This feature bridges the gap between online and offline and offers the shopper a genuinely useful tool.
Virtual mirrors are yet another way in which AI can enhance the customer experience. Shoppers can try on multiple items without removing their clothes and mix-and-match them with different accessories. The beauty industry is also set to gain as filters can be applied to show how different cosmetics look on skin tone. Farewell, hand swatches.
Retailers that are quick to invest and navigate this brave new world will have an advantage.
Conceptual Convenience
US fashion retailer, Nordstrom, are currently test-driving a concept store that's marginally bigger than a bakery. Considering their usual space is a sprawling department store, this is quite the leap of faith.
The idea is that customers can return or collect online items in-store while also browsing a small succinct selection of goods. They also offer a tailoring service, a nail bar, drink refreshments, and the option of personal styling. Commenting on the move, Shea Jensen said, "We know there are more-and-more demands on a customer's time, and we wanted to offer our best services in a convenient location to meet their shopping needs."
I think this sense of local and convenient shopping will become more and more commonplace as department stores are forced to reimagine their spaces in a bid to claw back the market share. This is currently being lost to online retailers, but the physical shop is still very much in demand- it just needs a makeover.
As I write in my book, The Fashion Switch, physical retail is really important. Maria Lemos owner of Rainbowwave, who was interviewed for the books says
"We live in a world where we have to use technology, and a lot of successful shops use multi-channel. They either have a parallel website or social media, but customers still want to go to the store and have that amazing experience. They want to smell, speech – the whole emotive experience, which they don't get online."
Ready or not, welcome to the brave new world of fashion retail.
Are you a retailer or brand looking for help to move your business online? We can help you with your digital strategy, help you navigate the chaos and get you credible and visible and grow online.  Contact us today.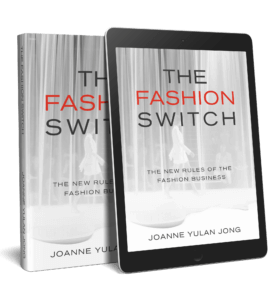 Joanne Yulan Jong a Creative Director, Fashion Writer, and Author of the bestselling book THE FASHION SWITCH 'The new rules if the fashion business'. She has been invited to be a regular columnist for WWD magazine.