Very proud to share the news that much-anticipated launch of the new designer childrenswear brand PETIT TRIBE has now launched and the E-commerce store and website is now open for business.
YULAN CREATIVE has worked very closely with owner Olatoun Jolaoso to bring this brand to market and the journey to launch has been a long and exciting one together. When two years ago, Nigerian born entrepreneur Olatoun first shared her idea with me over coffee at Tom's Deli in coffee in Notting Hill, I was not entirely sure if we could turn that dream into something concrete.
She was so very earnest and had such a strong belief that through this brand she could also enable underprivileged kids back home in Nigeria access better education. As a designer- when you come across a project with such wonderful cultural inspiration combined with great intentions its hard to resist so I decided to work on the project with her as brand and creative director.
Since then we have worked very closely together and put the building blocks in place with care, my first focus is to get into her head and interpret what her vision was into an internationally appealing brand that reflected the touch points she had described.
She wanted the brand to be globally appealing yet reflect her African roots, in particular, the colour and vibrancy and of the nomadic Fulani tribes of Nigeria that inspired her as she grew up. It was going to be challenging brief of course as I had never worked with on a children's brand before but having worked closely with Missoni for years developing a language for print and colour was familiar territory, as was high-end print and fabric sourcing and international manufacturer.
What a joy starting a brand new concept from the start, from initial rough designs and branding ideas to coming up with the brand name, and the language of print colour and silhouette we then passed onto the actual design with the next step was to find producers and partners to create the collection and also all the graphics and branding. When I realised that the concept was going down well, I asked branding experts Grain Creative to help us realise all the branding ideas and help the ball started to roll. Hiring experts in children wear was also urgent, as I had not designed children's wear before so we were lucky to find a wonderful product team.
The team has now grown and we have placed an amazing Petit Tribe team to follow all the other aspects of PR, marketing and operations so now Olatoun's dreams for her brand have indeed become reality. Thanks also to photographer Julia Bostock who articulated the brand so beautifully.
The Press are loving the whole Anglo -African concept, the language of colour, the bespoke prints we designed, along with the grown-up fabrics and the slouchy elegant silhouettes of the collection and the beautiful branding. All that heartfelt hard work and attention to detail it seems has paid off.
With the launch of the site the real journey now begins – watch this space!
Are you a retailer or brand looking for help to move your business online? We can help you with your digital strategy, help you navigate the chaos and get you credible and visible and grow online.  Contact us today.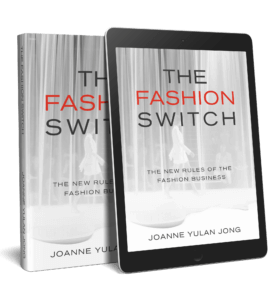 Joanne Yulan Jong a Creative Director, Fashion Writer, and Author of the bestselling book THE FASHION SWITCH 'The new rules if the fashion business'. She has been invited to be a regular columnist for WWD magazine.