Creative direction – Yulan Creative – photography Julia Bostock as featured in Vogue UK Sept 2016
Petit Tribe Photoshoot for Autumn Winter 2016/17.
Time to shoot the childrenswear campaign and I'm delighted to be working again with the wonderfully talented photographer Julia Bostock. This time on her home turf. Her gorgeous house and studio in Suffolk.
We arranged to get to Suffolk the night before to get everything prepped and the work begins…
Day One
5 pm – First stop was to swing by to pick up the samples from Ebony, Olatoun assistant who's also just arrived and was staying in a hotel nearby. What a relief to find all the key pieces here there ready to shoot.
7 pm – We arrived at Julia's by early evening and although the light was dropping I could still see the house in all its charming glory. I could see why she said it would be an ideal place to shoot this Petit Tribe childrenswear campaign, as her house is full of inspiration, books and props for different fashion photo shoot concepts.
9 pm – After having delicious dinner compliments of Julia's daughter, I returned to the annexe and as the long evening of hard work and prep beckoned. I spent that evening focused on the creative direction process, sketching all the outfits together for the shoot order the next day. As I had full use of Julia's studio already the easiest way to work was to lay out all the outfits on big boards the floor. It was a perfect space to style and pull all the looks together.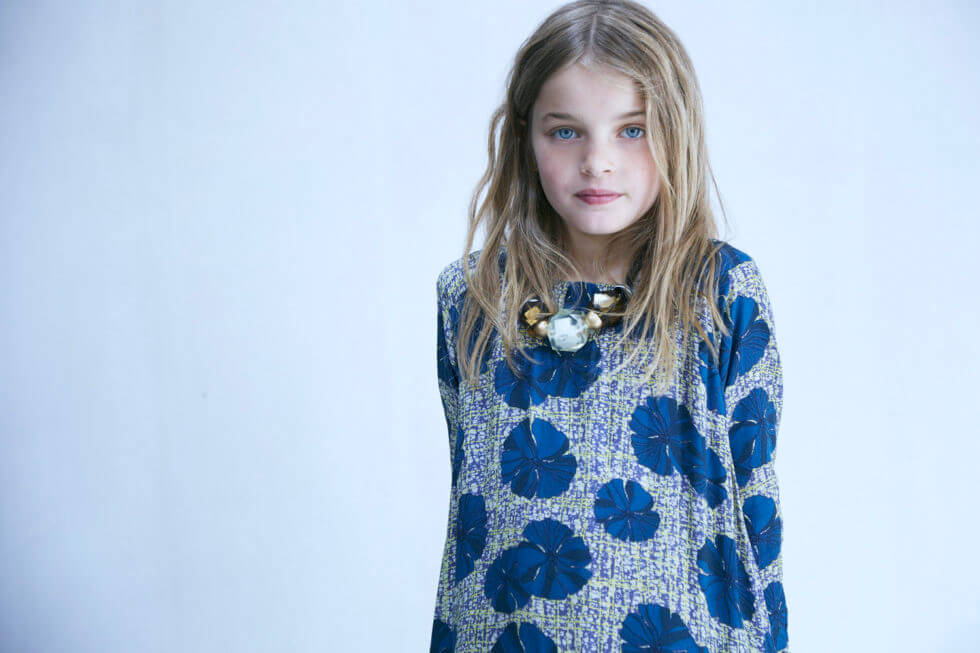 Creative direction – Yulan Creative – Bespoke prints for Petit Tribe childrenswear collection
It was lovely to see the collection again but this time as final samples, incorrect colours. The prints looked incredible. Since conception, the mixing of the prints and colours in an unexpected way is what I developed as the brand's DNA. Finalising the looks for the childrenswear campaign shoot reminds why it's important to keep that integrity through the creative process. It makes everything so much easier at the end.
12 pm – It was getting late night and was going to have to get up early so crashed out. It was a relief to know that it was there on a rail, styled and ready.
Day Two
6.30am The alarm sounded. On drawing the blinds in the annexe, I saw it was a beautiful day so we'd have a great natural light which was a relief.
7 am After a quick shower and coffee I had to think quickly about the order of the shots, the models coming and where we'd begin to shoot first. The first shot is so crucial to get right, as it sets the mood for the day. Alex and Jamie arrive. Alex has an incredible eye and is assisting on lighting today and Jamie is on stand-by checking the digital output behind the scenes.
8 am Suzy the hair and makeup artist arrives with her usual big smile and begins to set up.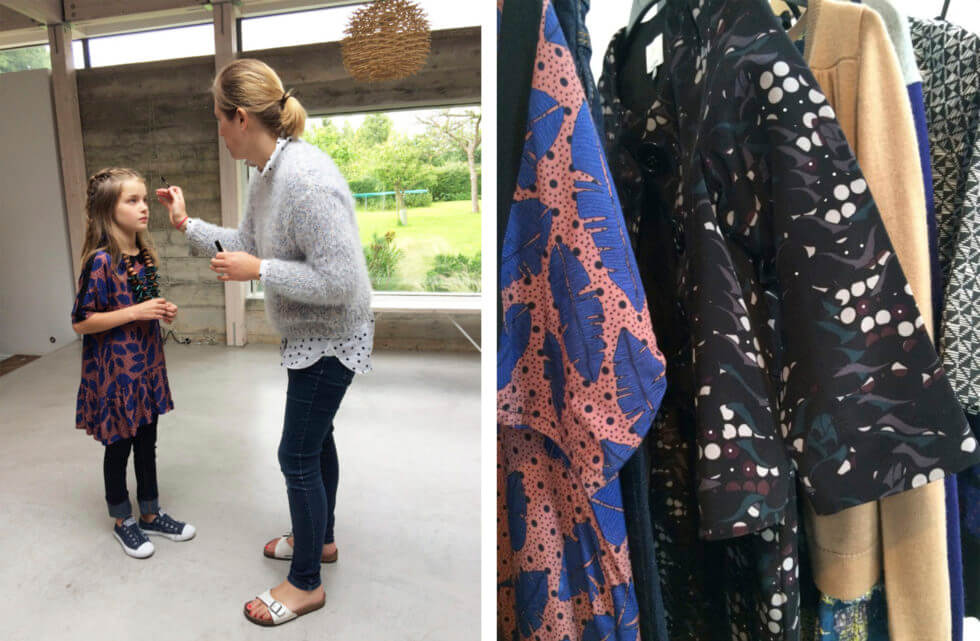 Suzy's finishing touches (left), our original prints for Petit Tribe (right)
8.30 am The first model arrives with her mother. Isabella is a gorgeous 8YR young lady. She's never modelled before, so we are all nervous to see how she'll manage but we leave Suzy our hair and make the artist help her to settle in and relax.
9 am Meanwhile I work with the team through the shoot order and make decisions on how to plan the shoot sequence. I experiment with the various spaces and there are lots of moving around of props and lighting tests follow.
9.30am sharp we are ready to start the shoot and Isabelle gets into her first look. Although she was a little bit nervous, she was relaxed and as totally at ease in front of a camera. This really helped to start the day with fantastic energy. She looks amazing.
11 am – another two models arrive and everything starts to get a little more frenetic; more kids more mums and more noise. We have some tough decisions, and changes of models and looks. Thinking about solutions quickly is a skill you need on fashion shoots.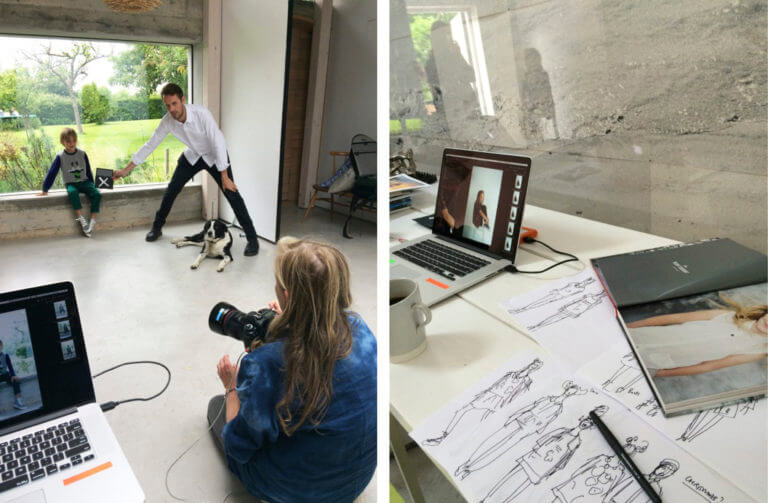 Jamie checks the lighting for Julia (left). Sketches for the shoot order (right).
6.30pm– finally wrapping up. It's been a long day and the kids and team are exhausted. Working on shoots with children means you can never predict what's going to happen. Although this shoot was much calmer than the last Petit Tribe (when we shot much younger models, and babies as well) it was not without its ups and downs. It takes huge amounts of patience and skill as working with children is so different to working on a shoot with adults.
However as the team has worked together many times before and Julia is so expert at getting the very best from the children, it could not have gone better. As a creative director, it's my job to make sure that everything on the shoot list has been shot and we really pulled out the stops to make sure it was all complete.
You can tell the success of a shoot by the faces of the team when its over. All I can say is there were smiles all round and this time not just from the kids.
Are you a retailer or brand looking for help to move your business online? We can help you with your digital strategy, help you navigate the chaos and get you credible and visible and grow online.  Contact us today.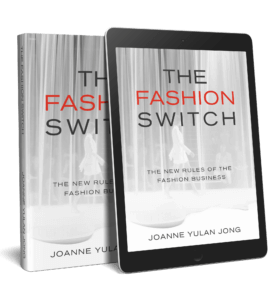 Joanne Yulan Jong a Creative Director, Fashion Writer, and Author of the bestselling book THE FASHION SWITCH 'The new rules if the fashion business'. She has been invited to be a regular columnist for WWD magazine.