The Fashion Switch, my first book written from the perspective of my twenty-five years of hands-on creative experience building successful fashion brands, was launched with great success on 23rd November 2017 at the beautiful and fitting venue the Library or "Biblio" at The Trafalgar St James hotel.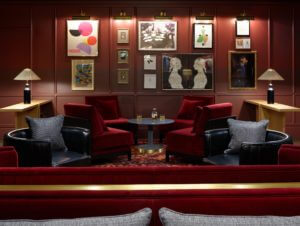 The evening was to not just to celebrate the launch of the book, but also to thank the many people over who took time out to be interviewed, over forty in total. They ranged from fashion editors, designer's, recruitment specialists, brand financial and data experts, to past and present clients. Their insights and knowledge have helped to shape and illustrate beautifully the principles and thinking behind the book, and I was delighted to welcome so many of them at the event.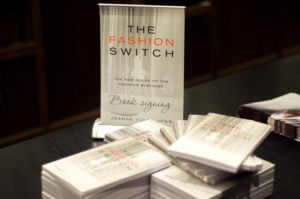 I approached my dearest friend and peer Graeme Black to introduce the evening. Our history in the fashion business together spans many years and we worked closely together in Milan with Giorgio Armani. Graeme's experience as a creative director and designer is a journey that many would envy, starting his career with Zandra Rhodes and John Galliano, to working with a multitude of luxury brands such as Hugo Boss, Ferragamo in Milan and Erdos 1436 in China. His own eponymous label, as Samantha Conti from WWD wrote lately during our interview on the book, was "one of the most polished and luxurious collections the city had ever seen". A collection that earned him the title of Scottish designer of the year. I was honoured that he agreed to open the evening.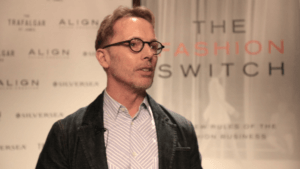 Graeme Black – Fashion Designer Creative Director and founder Graeme Black Limited
"Experience is the essence of understanding, Joanne's many high profile positions have given her the ability to see the bigger picture and analysing brand with cool detachment. She has worked across various businesses from couture houses to international ready-to-wear right through the UK retail and more recently e-commerce businesses. She really does have a unique perspective on what works and what doesn't and knowledge what she is now applying in her writing. Joanne has earned precious insight into designer brand processes on the job, how and why, what and when. To answer such questions, you need in-depth knowledge, insight, and experience. Joanne is a person who believes everything is possible, she posses the ability to question brands and is then able to address the issues in a competent and practical solution. This is why The Fashion Switch' analysis and personal insights make such a great informed reading"
Next to take the stage was a current client, the lovely Sara Madderson, owner and creative director of a growing women's online brand Madderson London, to speak about her experience working together. Both Helen and her partner have been growing the business for five years and have an ever growing fan-base of customers, including Kate Middleton, who love their collection.
As Sara said during her talk, working through the brand strategy together could not have come at a better time, as she and Helen were working on their business plan. The ALIGN principle is all about helping clients gain laser focus on what makes them unique in the market and give them the courage to take ownership of that. Here's what she had to say.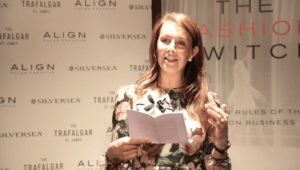 Sara Madderson – Founder of Madderson London
"Since reading the book and working through the "ALIGN programme, both Helen, my partner and I have found so much more conviction and clarity. The thought process and exercises are very well designed to draw out our story and purpose in the clearest and most authentic way possible. Joanne has really helped us focus on the essence of our brand and highlight the key factors will dictate the level of our success. The real surprise has been how incredibly empowering and joyful the experience is. She allowed us and gave us permission to not please everyone, but rather in her words 'represent one thing beautifully."
Then, it was my time to take the stage, to speak about the journey writing the book and why it's so relevant to the fashion business today.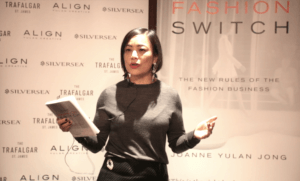 Joanne Yulan Jong – Author of The Fashion Switch
"The digital revolution or not so-called the fourth industrial revolution came in not like those in the past with lots of noise and smoke came in very quietly, but it's transformed our lives in a way we could never have imagined.We are living in an extraordinary age of connectivity. It's staggering to just think how that is developed and how quickly it's developed. With almost 7 billion predicted to be online and on mobile devices by 2021, that's a lot of individual voices, opinions, and expectations to meet. Now, there is a great opportunity for companies to have direct contact customers which helps them understand, but as a result are also accountable for what they deliver. Fashion faces many big challenges."
Why? Because suddenly digital has made fashion more transparent and at the same time opened up a window to thousands of other new brands and its suddenly become incredibly competitive. The business has fragmented.So this brings me back to the title of the book the switch – connectivity is forcing the fashion business to switch from when I called transmit mode to receive- Switched from a business that's dictated for decades to one that's now humbly trying to work out what the customer wants. Digital has put the customer firmly in the driver's seat and is being forced to listen. This shift has it shattered the structure and ingrained rhythm of the business into a million pieces – we can even say that the rulebook has effectively been torn out torn up and thrown out the window.The signals a new era for the fashion business it's very challenging but also at the same time incredibly exciting. So what are the new rules?"
I wrote this book to help owner-led independent fashion companies. They face unique challenges as they are competing with big brands with unlimited budgets, while at the same time losing market share to digital savvy, agile up-and-coming newcomers. Without creative and strategic clarity they could lose the business they have worked so hard to build. I'm passionate that they recognise that they are the ones, that have the greatest opportunity at this exciting time.
Through this book, The Fashion Switch, my goal is to help fashion business owners to push boundaries and make their product exceptional – to highlight and build on the value they already have, to align their creative and strategic vision and stand out in a crowded market. To be the outstanding brands of tomorrow.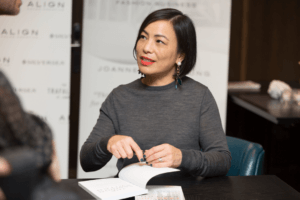 The Fashion Switch remained at No 2 in Amazon Best Sellers in hard copy for an incredible two weeks. For a niche book about a very specific topic, it came as a wonderful surprise.
I've also been so overwhelmed by the incredible response and reviews the book has had so far. Here are a few reviews from the guests that attended the launch.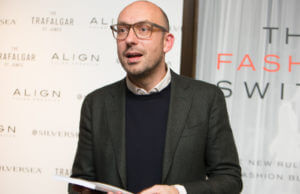 Acknowledgements
I would not have been able to do this without the support of my friends, clients, entrepreneurs, fashion industry experts, and stand-out individuals who took time out of their busy schedules to share this journey. You have my gratitude for sharing your insights, stories, and opinions that illustrate beautifully the principles behind this book.
Thanks also to those who took the time to beta read and review the book, giving such helpful feedback – the Rethink Press team, to Lucy, Joe and the editorial team.
Thanks to my husband, daughter, family, and especially my father Kwiton, for their patience, support, and always encouraging me to keep going.
Lastly a huge thank-you to The Communication Group for their support, as well as to my generous sponsors for this evening, The Trafalgar St. James Hotel and their team, and luxury cruise experts, Silverseas, making it possible to put on such a lovely event.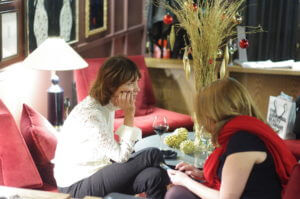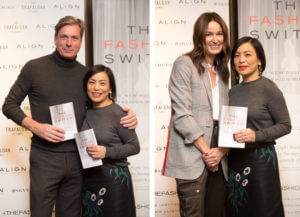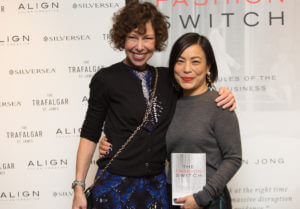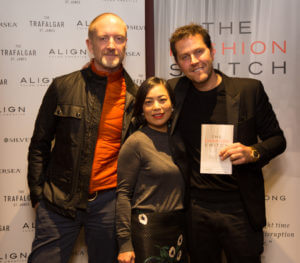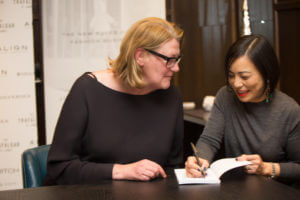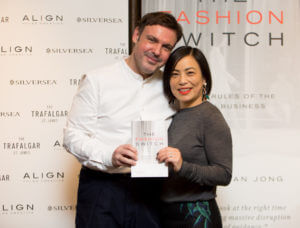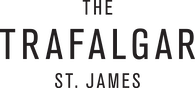 Are you a retailer or brand looking for help to move your business online? We can help you with your digital strategy, help you navigate the chaos and get you credible and visible and grow online.  Contact us today.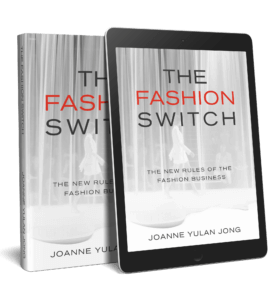 Joanne Yulan Jong a Creative Director, Fashion Writer, and Author of the bestselling book THE FASHION SWITCH 'The new rules if the fashion business'. She has been invited to be a regular columnist for WWD magazine.