It's the shakeup that has been on the cards for years and the hot topic of this fashion week. Creaking and straining, the traditional fashion calendar was ripe for disruption. Where there is upheaval, there's opportunity for the future of fashion shows, writes Joanne Yulan Jong.
It's ironic to think that these two players, Tom Ford and Christopher Bailey at Burberry, are the first to tear up the rulebook. Ford and Bailey, former co-workers (Christopher Bailey worked under Tom Ford's during his tenure at Gucci) and perhaps the sector's most known CEO/Creative Directors (a club which admits precious few) are pressing 'reset' and opting to show 'in season'. The fashion world is left in open-mouthed astonishment.
What it means for the fashion schedules and business, in general, has even prompted big consultancy roundtable discussions and a 12-page study by the CFDA and Boston Consulting Group's recently concluding that there is no one fix solution. Diane Von Furstenberg commented, "The CFDA has to give [designers] the freedom to do what is right for them."
And about time too.
Burberry on the one hand driving the show to become more open and consumer-led and Ford at the other end trying to preserve his concepts from copycats. Whatever their motivations, I applaud them. they are dragging the fashion world into the reality of the digital age.
"Our customers today want a collection that is immediately available. Fashion shows and the traditional fashion calendar, as we know them, no longer work in the way that they once did," Tom Ford announced. "We spend an enormous amount of money and energy to stage an event that creates excitement too far in advance of when the collection is available to the consumer. Showing the collection as it arrives in stores will remedy this, and allow the excitement that is created by a show or event to drive sales and satisfy our customers' increasing desire to have their clothes as they are ready to wear them."
As this seismic charge exploded through the networks, I asked my friend Duilio Zaffaroni, who has worked in wholesale strategy with Neil Barrett for more than ten years, and latterly as a consultant at Riccardo Grassi showroom in Milan, what it all might mean.
Duilio didn't seem surprised: "The talk about the fashion schedules has been going on for 15 years. In reality, buyers lost interest around 10 years ago; tired of so much travel and too many shows, it all just became too much"
This is big news. So big that BoF called an emergency meeting of fashion influencers including friend and editor JJ Martin to make some sense of what might happen next.
Their conclusions will look pretty familiar to my readers:
We as consumers are now looking for authenticity and connection
Brands need to consolidate and rethink their roots
There's a general overload of shows and fashion content
There are far too many shows and the whole thing has become pure entertainment anyway
As a designer who has worked across retail, e-commerce and wholesale structures, I've been super curious what the abandonment of the traditional show calendar might mean and in particular how it will affect the design process/schedule. Looking for clues in the BoF interview was inconclusive. Erdem Moralıoğlu, the only designer at the roundtable, seemed unphased by the dramatic news. It's business as usual for him: like other independents, it's not possible to be able to show purely for consumers.
Whether he's being pragmatic, philosophical or complacent about how this affects independents like him, it almost doesn't matter. The luxury houses will go bigger, bolder and better on the catwalks to generate the best assets for their digital content strategy to beam onto the iPhones of their voracious consumers.
This fight for the consumer' attention has been #trending for a while. We've witnessed the big houses compete for the most lavish show of the season (Chanel's Linlithgow Castle extravaganza reportedly cost £2m). Other luxury brands will follow suit and will show in the season. It makes sound commercial sense – the fashion show is increasingly a public show and the public gets what the public wants.
So where that leave independent designer brands and their shows?
Will they fall in line with the new 'Burberry' schedule or not? The status quo will hold for the moment. Independent designer brands will stick with traditional schedules out of necessity. They are constrained by practicalities. Yarns and fabrics cannot be magicked out of thin air. Companies without the clout of massive orders will have to fit in with the production schedule of the manufacturers. These manufacturers may become more flexible, but only for the clients whose orders they rely on. Clients like Burberry.
Are we looking at a two-tier system for shows with smaller independents showing their A/W season in Jan while the big guns display their wares in July?
A two-tier system cannot be the best use of resources. If these independents shift their show to a July slot in line with the big players, they then have to acknowledge that their budget is used not to generate more wholesale orders but to finance a pricey public event.
Smaller companies have used the catwalk to showcase their aesthetic and vision to the max. However, with already overcrowded schedules, buyers are lamenting that they can't possibly see everything and ration their attention on the brands they are obliged to buy. Shows are less and less likely translate into sales.
"The show, of course, will exist for those who can afford it, but it will soon become irrelevant and too costly for smaller designers", says Duilio Zaffaroni
Isn't it risky for Burberry et al to push back the show?
Not really. They are behemoths and can commit to production orders whenever they please.
For these brands, it breaks down as follows:
The wholesale and, more importantly, retail orders will be placed behind closed doors in January
They will predict and commit to production orders (which would not change drastically pre or post a fashion show)
They show purely to push sales direct to the public.
In the new paradigm, the show is to drive consumer orders and raise a company's profile, but – crucially – all orders have already been produced and are ready to deliver in store.
This, in turn, creates more space around the discussion of shows and what their future relevance will be.
How can smaller independents shine amidst that competition? Watch this space as savvy designers find opportunities to present a fresh approach. We have just seen Kanye West's Yeezy New York show sell tickets directly to the public and beam live to cinemas around the world. Unsurprisingly, the show sold out instantly.
Could independents move in line with Burberry anyway?
No, it's a very different reality for the more constrained independents.
They use the show to impress buyers who then place wholesale orders
They then place production orders shortly after the show based on their reaction
They need 6 months to produce the orders and complete delivery
Unable to rely on direct-to-public sales, independents use the show to raise their profile in order to drive wholesale orders.
Interestingly – E-Commerce brands could potentially show in line with Burberry as they place orders independently of the show calendars and wholesale buyers.
Over the last few years, factories have learned to accept more flexibility from their clients, so this potential upheaval may not take them by surprise. They may lament having to wait for confirmation of orders for long periods of time, then re-quoting repeatedly as retailers are trading more in season/checking weather/trends before committing to orders. This can cause havoc and only those who are well organised and nimble have risen to the challenge of working on shorter time frames. Waiting for the raw materials is still a big issue even with the best will in the world.
For the bigger companies who own their own factories and have access to a vertical production structure, the new regime will be easier to accommodate. External suppliers will bend over backwards to keep these powerful players happy and will be forced themselves to work to a different schedule.
If you are lucky to be represented by a great sales agent or have a fantastic showroom, this may be your time to shine. As the public are wowed with spectacle around the catwalk, the real work will take place where it always has – in the showrooms where buyers can focus on buying. Freed from the traditional role of prefacing future sales, the catwalk will be used by those smart designers to do things we haven't yet contemplated.
So plus ça change? Not quite.
If the big brands follow Burberry and Ford, the buyers' schedules won't change that much in practical terms. The bigger difference, however, will be a big change in control. Viewing and orders will happen behind closed doors while the big players get to dictate when and what tasty morsels get revealed.
Burberry finally gets their 'straight to consumer' shows and Tom Ford gets to shield his collection from the plagiarists.
Good news for them and good news for fashion creatives in general.
For years creative teams have been told by other departments to design using the catwalks as their inspiration. This is a lazy way of working but one that has made millions for fashion giants.
Now the boardrooms in all fashion companies are energised as they pivot and brainstorm (and maybe panic). The creatives and designers are being called back to help make sense of what's happening. They'll slot in alongside, Purchasing, Merchandising, Finance, Sales and Marketing to capitalise on the upheaval.
Tom Ford will be allowing himself a wry grin as the copycats realise the dire implications of this disruption. If the most watched (and most copied) shows like Burberry retreat behind closed doors then the copyists will no longer have the lead time to get their 'inspired by' collections in store in their usual way.
Unable to be 'inspired by', will the designers of giants like H&M and Zara shift to more original design work? They must.
To retain their edge, these brands will collaborate with celebrities and known designers, just as Carine Roitfeld has with Uniqlo.
"In my opinion, there will be a move away from designer brands to a just great product. There are lots of people who are not designers who will see the merit in collaboration and make great fashion product."
Duilio Zaffaroni
What sweet music to any designer's ears. Freed from slavishly obeying the dictates of the top shows as the sole compass, buyers and merchandisers can turn again to the creatives and designers to produce original material.
For designers, this is a moment we've long been waiting for. Like so many other industries that have been disrupted – publishing, broadcasting, finance – the doors have been blown off and the creatives have room to breathe.
Inhale deeply…
Are you a retailer or brand looking for help to move your business online? We can help you with your digital strategy, help you navigate the chaos and get you credible and visible and grow online.  Contact us today.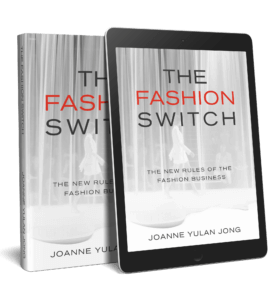 Joanne Yulan Jong a Creative Director, Fashion Writer, and Author of the bestselling book THE FASHION SWITCH 'The new rules if the fashion business'. She has been invited to be a regular columnist for WWD magazine.