Financial events far away can hit hard at home. Sometimes the solution is on the front door.
Uncertainty in an interconnected world is a problem for all, but in a margin-driven industry such as fashion, fluctuations elsewhere have very real consequences closer to home.
Just as we breathed a sigh of relief that Greece's debt rescheduling was finally agreed, the sudden devaluation of the Yuan twice in one week sent shares plummeting worldwide.
My thoughts recently have been with a fashion group in Greece that I worked with to help restructure, define creative vision and design process a few years ago. The financial crisis and the brinkmanship over a possible Grexit have lead to their business effectively grinding to a halt over these last few months.
Much of their collection, their silks and knitwear especially, are manufactured in China (itself having a stock market meltdown) and as the banks in Greece closed their doors, payments to suppliers would have been affected, delaying development and product shipments. This interruption, in turn, affects the production slots held by the manufacturers who would have been inclined to fill that slot with another commission.
Even if the majority of products are manufactured locally, a lot of the textiles, trims and components are still bought abroad and those too would have been delayed. Any delay then means the end collection arrives late and therefore has less time to sell at full price.
Things will slowly return to normal. But the impact will mean orders will likely be reduced or cancelled and the new seasons reconsidered.
It's not just very dramatic events such as those in Greece that cause problems at home; another client faced a very difficult time navigating the huge currency fluctuations and bank restrictions due to the political uncertainty of the recent elections in Nigeria. Similarly here in the UK, in the months before this year's general election, there was a marked slow down of consumer spending.
In China, the sudden devaluation of the Yuan sent a chill through luxury fashion labels such as Burberry, Prada and Hermes whose imported products overnight became more expensive to the Chinese. As China attempts to boost economic growth, the effect is felt globally, especially in Europe, Asia and the US, seeing share prices tumbling with the FTSE alone losing £74 billion overnight.
Uncertainty in an interconnected world is a problem for all, but in a margin-driven industry such as fashion, fluctuations far away have very real consequences closer to home.
How does this all impact the fashion business?
Communication has got ever faster and we are trading and collaborating 24 hours a day with suppliers all over the world. We are so tightly connected that these issues, even if they seem far away, are all our issues too. We live in a truly interconnected market. Now with prices of basic commodities fluctuating such as oil and metals, these changes will impact on all businesses.
Products from China have become cheaper as a result of this recent currency move, but it could very well have suddenly gone in the other direction. With so many variables in this global market that can have a real and adverse impact on your business here, it is essential that you have a backup plan. A local plan.
As a business, you may have already settled on where you produce for a reason, especially if you are more established, but as the events in Greece have shown, it's wise to revisit your local options especially if you are an SME.
When working as creative director at the Austin Reed Group, for instance, we would frequently cross develop the same styles in different countries. A velvet jacket we developed in China was significantly much cheaper than made by our Manchester-based factory. We discussed the style with the obvious aim of getting the best price but at the same time we were building in alternative options should something go wrong.
On that occasion, we did use the UK production, just so we could repeat the order quickly as all the elements and production were EU-based. Now many fashion companies will be analysing costs of their Chinese production carefully.
Smaller companies too need to put this into practice. Risking non-delivery to high-end boutiques is an unforgivable offence that's not forgotten. For E-commerce brands as well, serious delays in production deliveries mean you may sell less of your stock as the seasons' full price sales window narrows.
So, as we watch events unfold and try to understand how this all will affect our own business, here are some tips for building your more local Plan B.
How to create a local buffer against global fluctuations
• Revisit local suppliers and really explore what the more local options are.
• Identify alternative locations for production: make contact, check their quality and ask for samples as a backup solution.
• Create a library of locally – sourced back up options for fabrics and trims.
• Understand lead times and delivery costs.
• Talk with your business bank to inquire and secure loans in – case you suddenly fall short, or investigate accounts in local currency to tide you over if the conversion rates become unfeasible.
• Most high street business banks Santander/Barclays/RBS/Natwest lend up to £25k- not a lot but could save the order of a key collection item.
• Business Banks http://www.moneysavingexpert.com/banking/small-business
• Research alternative business funding- such as in the UK check out https://www.fundingcircle.com/
• Build in a buffer for any shift in import/export costs and make sure you understand how your suppliers will react if there's a change and make sure your negotiation has been thorough i.e. will they pass this onto you or is the price fixed and for how long?
• Watch out for currency movements and understand what makes them fluctuate: Central Banks, State Economics and Politics.
• When you produce and ship globally, any change makes a big impact on the bottom line.
Some useful tools
• http://www.slideshare.net/Forex2013/forex-trading-for-dummies-2013
• http://www.bloomberg.com/markets/currencies
• https://uk.finance.yahoo.com/currencies/converter
• http://www.xe.com/currencyconverter
Are you a retailer or brand looking for help to move your business online? We can help you with your digital strategy, help you navigate the chaos and get you credible and visible and grow online.  Contact us today.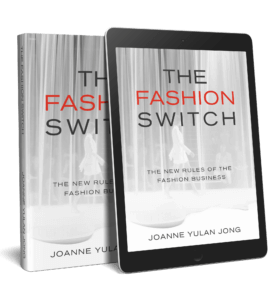 Joanne Yulan Jong a Creative Director, Fashion Writer, and Author of the bestselling book THE FASHION SWITCH 'The new rules if the fashion business'. She has been invited to be a regular columnist for WWD magazine.