Veterans of the fashion season may have raised an eyebrow this September when Givenchy eschewed the typical exclusivity and threw their show open to 280 students and 1,200 members of the public. The 9/11 date itself and theme were, on this occasion, very much at the heart of this inclusivity, but raised the question if this is the format of shows to come.
With Tisci's move to offer an open invitation and Nathalie Massanet's decision as the chairman of the BFC to transplant London Fashion Week to Soho where shows were screened to the public in Golden Square, are we witnessing a shakeup or simple pragmatism? What is the future of The Show?
We've been here before of course. In 2013, Tom Ford marked his comeback season with a truly exclusive show for about 100 invitees and a handful of select photographers. Ford wanted to control the "reveal" with approved coverage and no way in for the "copyists" It was the talk of the town that season.
However, this was the season that Christopher Bailey (who had worked under Ford at Gucci) took Burberry the polar opposite direction. The show was streamed live to the public on huge screens in Piccadilly Circus. The result? Burberry got the coverage and Ford was left looking egotistical and aloof.
Burberry is a brand that is unafraid to communicate directly to the consumer and has always co-opted technology to get the design and experience to the masses as quickly as possible. The dream team of Angela Ahrendts (now working for Apple) and Christopher Bailey forged ahead pushing the boundaries and creating a new digital backdrop for luxury fashion.
Some Burberry digital firsts
Sept 2009 – First London streamed show
Feb 2010 – World's first ever 3D streamed fashion show
Feb 2011 – First show streamed live online and on screens in Piccadilly
Sept 2012 – First luxury interactive store opens
Sept 2013 – First show streamed live to 11 international social networks and 13 locations
Sept 2014 – First luxury brand to sell through Twitter
Feb 2015 – First use of Tweetcam — followers created a live feed
March 2015 – Launch of Burberry 'Periscope'
April 2015 – Launch of Burberry Snapchat
Out with the old schedule?
Tom Ford was facing an uphill battle in his rather touching attempt to stand up for the old fashion rhythms of releasing a beautiful new collection to the world. The traditional model defended by Ford revolved around a well-defined sequence of access and tease:
Mid-July – The buyers see the collection preview
End August – Catwalk collection finally pulled together
Start Sept – Main buyers appointments
Mid Sept – Catwalk show
Mid Sept – Journalists and PR appointments after the show
End Sept – Advertising and editorial confirmed
End October – Buyer's appointments close
Dec – Editorial coverage starts to emerge and delivery in-store begins
In the old calendar of events the release of imagery and the public's access to view the collection would take from Sept to Jan – effectively five months of waiting time and five months time for the designer to control what's being shot by whom, on whom and when. Individual fans then had five months to buy from the collection (unless they happened to be well in with the connected personal shoppers…)
New schedule
With the new schedule, even the development of the collection is seen as valuable online content delivered to an audience that just can't, and doesn't, wait. We get sneak peeks at mood boards and model fittings. Shows are live and stream directly with full public access. Individual orders can be taken directly from the catwalk directly. There is no longer any wait to see, analyze (and copy) and order. All we have to wait for these days is the physical time for the orders to be produced.
Now that the public demands access to everything, always and at anytime and exclusivity and privacy and patience no longer exists, where does that leave the designers and their challenge to communicate what they do?
In my view, it's going to affect E-verything (with a capital E) as the fashion cycle has completely changed. How we market fashion is already influencing many parts of the creative process. For example -photography has felt the effect. These days most fashion shoots are shot both as moving images as well as stills, and photographers who can't offer both are being pushed to the side.
"Quiet imagery on a cell phone doesn't stick out. It has to be in your face. You have to grab people," says photographer Andrew Gold.
What then is the future of The Show?
One of the most memorable shows I attended was Christian Lacroix's couture show in 1992 at the Paris Intercontinental -one I was lucky to attend when I was very young. It was at the time that I was writing a thesis about the couture business so I was thrilled to see first hand the old guard clients I'd read such a lot about, alongside the infamous 'front row' including the likes of socialite walker Jerry Zipkin with Nan Kempner and Lynn Wyatt. It was quite spectacular — as Marie Seznec and a very young Christy Turlington appeared in their amazing couture gowns surrounded by swathes of lilac flowers. Back in those days, the audience was actually able to look at the collection to watch the drape of fabric as it moved, marvel at the design, cut, colour and workmanship and be entranced by the spectacle with their own eyes rather than through the screen of a phone – we were experiencing the moment.
It's now become clear that the fashion show is now less about the moment and is a perfect source of digital assets to feed into the online marketing story. As ever, the big conglomerates will have the resources to lead, putting on madder, crazier more spectacular shows. With the Chanel show in Linlithgow, 2012 reportedly costing £2 million, expect to find shows that charge the public to access.
For everyone else including new designers, the ability to charge for access will less likely although there no doubt will be move's to commercialise them somehow. The less – resourced have little alternative but to show a 'live' show and create moving content somehow, either catwalk or video. It's an expensive exercise but they will have to secure that budget in order to be seen.
Will the shows be truly inclusive? In reality, it makes little difference if the show is physically open to the public or not anymore as it's already out there for all to see. The move of the shows to be more open only underlines the change to the hierarchy of the old system front row and seating plans. Indeed, if you have a large enough following on Instagram, the PRs are happy to know you.
So was Tisci's move to make the Givenchy show public really so groundbreaking or more a well-timed reaction to the writing on the wall?
Yes -it was well timed but is a signal that things have now moved on. If this is the new landscape ahead of us, we will just see more and more shows and the demand for marketing content will start to lead the business. You can choose to go with that flow by embracing social and generating more video, film and visual content, but staying ahead here will be time-consuming, costly and a huge source of competition for your attention. Don't forget that it takes a big team to do this so fast- vogue.com has 53 staff working on the site.
How to market a fashion show: 8 tips for small business:
• Make a specific day/time for your team to work on marketing and content. This type of work can become a resource hog unless tightly pinned down.
• Find tools for managing your social updates (Hootsuite and Buffer are tried and trusted) and delegate the responsibility. Give this person the time and resources they need to learn to use these tools – it will ultimately save time.
• Make your posts stand out by using images where possible. Canva, for example, has attractive and easy-to-use templates for Facebook, Twitter and more.
• Organise your updates and schedule them for best effect. Spend the time to work the timings out. Services such as Buffer, for example, can suggest optimal posting times based on your followers' behaviour on Twitter.
• Don't miss opportunities to create content. Everyone can be a content creator by taking snapshots and videos when you are at work, during fittings and as you create. Your PR/Marketing people will ask this from you – don't tell them that you forgot 'as you were too busy!'
• Think ahead about how you will present your collection. Find ways to make your images stand out by choosing striking locations or eye-catching effects.
• Don't forget the voice and words around the image. Cosy up with a friendly journalist or wordsmith that's on your wavelength and start to create a story.
• Music is just as important. Find your team's music guru (but check out the rules and regulations on using music on your site).
And as for Tom Ford and the purists amongst us who like to take a slower pace, we're not alone. Many are still thrilled by creating a unique and beautiful collection and sharing it only when it's good and we are ready. After all, we all know who won the race between the Hare and the Tortoise…
Read more opinions as covered in BoF here.
Are you a retailer or brand looking for help to move your business online? We can help you with your digital strategy, help you navigate the chaos and get you credible and visible and grow online.  Contact us today.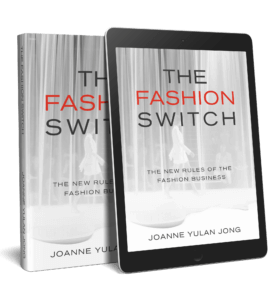 Joanne Yulan Jong a Creative Director, Fashion Writer, and Author of the bestselling book THE FASHION SWITCH 'The new rules if the fashion business'. She has been invited to be a regular columnist for WWD magazine.