It's the nature of fashion to change, but brands copy and plagiarise too much in an attempt to be commercial. It's time to stop this cycle and place 'design thinking' and the human experience of the brand once again at the centre.
Having worked in Italian luxury fashion during my formative years, I learned that design must always come first. There is a reason that the great Italian houses such as Armani have survived: they place good design and creative vision at the core of the business.
Giorgio Armani, with whom I worked closely, has adhered steadfastly to his brand vision for over 40 years. Sure, the brand has been more successful in some decades than others, but the fact we are even discussing 'decades' of business and that his personal wealth exceeds $8 billion dollars (according to Forbes) shows there's much to be said for keeping to your principles and keeping 'design thinking' central to the company.
Time is also a factor in the success of Apple. Jonathan Ives' successful creative vision at Apple is less about his being a uniquely-talented product designer (which of course he is) but perhaps rather that the company's philosophy to put the brand's human experience up front and central. Steve Jobs already knew this, having tried to recruit Ive for many years before he reeled him and put his design nous to work on the iMac. Jobs took that time to find the right match and hire a creative that shares the same vision as himself.
Ive explained the close rapport that existed in his working relationship with Jobs "When we were looking at objects, what our eyes physically saw and what we came to perceive were exactly the same. And we would ask the same questions, have the same curiosity about things." Ive described Jobs as "so clever", with "bold" and "magnificent" ideas.
On finding that perfect fit, Jobs allowed Ive free creative control and the added luxury of a proper frame to test the reaction to Apple's new direction. Many companies sadly do not have the funding to play such a creative long-term game, but a lack of budget should not become a reason to push design aside.
If the bottom line was all Apple was aiming for, they would have done away with the luxurious iconic perfectly-fitting packaging, the perfect lines and expensive minimal purity. They put what Vikas Shah calls 'design thinking' firmly at the core of their Apple and their long-term strategy paid off.
Returning to the fashion business, it's hard to find brands that commit to their brand vision as strongly as Apple. This loss of nerve can, of course, be pragmatic and advisable but it's mainly a result of the nature of the fashion cycle which dictates you can't be 'in fashion' all the time. During those leaner times, it's tempting to head in another direction.
Here in the UK, the high street offer is quite extraordinary, but look closer and you'll see brands copy and plagiarise each other to a head-spinning extent. Pick up five dresses from five brands in a department store and don't be surprised if you have five versions of the same item. As companies, especially high street and retail brands, grow, buying merchandising and marketing takes prominence as this is what drives the business figures. The downside is to the detriment of good original design and how the brand and its product delivers.
Perhaps it's time to stop the cycle and to again place 'design thinking' and the human experience of the brand at the centre.
Its a fine balance for small companies but it can work. Take, for example, my client ME+EM. I could tell on our first meeting that Clare Hornby, owner and founder, was very passionate about putting the customer at the heart of the development of the brand. In me, she found the perfect fit in a designer that had the knowledge to create the right aesthetic, deliver a high-level product and understand what she wanted to deliver. We had that synergy.
During many fittings using herself as the fit model, she would test every fabric and style and explain where she needed a top to hit the hip-line exactly in order to be flattering. She wanted to see herself whether a dress truly disguised a certain challenging area of the body. Did the break button a blouse reveal just the right touch of cleavage? Did the fabric itch? Did it wash well or crush? All that detail, the human experience, was as important to Clare as it was to me. She understands that identifying what makes a product desirable is crucial.
Calmly we constructed a thoroughly well-considered collection. The obsessive attention to design and detail, the better fabrics and improved fit, shone through and the brand has quadrupled its turnover in just four years. ME+EM has cultivated a highly loyal customer who comes back year-on-year for more.
For 'too many businesses, design is an invisible element somehow present without effort… says Chris Bangle, former head of BMW. "Other enterprises understand design for what it is…. the summation of all the experiences their clients will have … and as such is well worth the investment and resources."
Design thinking is not just true for behemoths such as Armani and Apple, small companies can also succeed by sticking to core principles.
Are you a retailer or brand looking for help to move your business online? We can help you with your digital strategy, help you navigate the chaos and get you credible and visible and grow online.  Contact us today.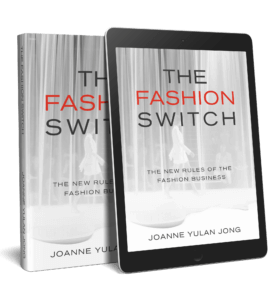 Joanne Yulan Jong a Creative Director, Fashion Writer, and Author of the bestselling book THE FASHION SWITCH 'The new rules if the fashion business'. She has been invited to be a regular columnist for WWD magazine.